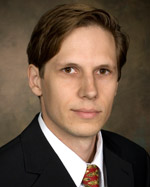 Vojtech Huser, MD, PhD
Applied Clinical Informatics Branch
Staff Scientist
Contact Information
Building 38A - Lister Hill Center, 9N919
301.827.4990
vojtech.huser@nih.gov
Expertise and Research Interests:
Dr. Huser was born in the Czech republic. He received his MD from Palacky University (Olomouc, Czech republic, EU) and PhD degree in Biomedical Informatics from University of Utah (Salt Lake City, Utah, USA). His research interests are clinical informatics, knowledge representation, clinical research informatics, data repositories and data analysis, workflow technology, executable clinical guidelines, medical decision support systems and quality improvement in healthcare. As informatician, Dr. Huser worked with numerous informatics systems at Intermountain Healthcare in Utah, Marshfield Clinic in Wisconsin or NIH in Maryland (intramural campus). He is a former Fulbright scholar (his PhD degree), recipient of Young Investigator Award from HMO Research Network and has authored papers that won AMIA Distinguished paper and AMIA Homer Warner Best Paper awards.
Publications:
Huser V, Shmueli-Blumberg D
Data sharing platforms for de-identified data from human clinical trials.
Clin Trials. 2018 Apr 1:1740774518769655. doi: 10.1177/1740774518769655. [Epub ahead of print]
Janakiram C, Chalmers NI, Fontelo P, Huser V, Lopez Mitnik GL, Iafolla TJ, Brow AR, Dye BA
Gender and Race/ethnic Disparities in Opioid Prescriptions for Dental Diagnoses among Patients with Medicaid.
J Am Dent Assoc, 2018. 149(4): p. 246-255.
Huser V, Kahn MG, Brown JS, Gouripeddi R
Methods for examining data quality in healthcare integrated data repositories.
Pac Symp Biocomput. 2018;23:628-633.
Bhupatiraju R, Huser V, Fung K
Phenotype modelling tools utilizing standardized EHR data in a Common Data Model format [Poster].
NIH Research Festival 2017.
More...