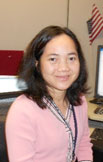 Vinh Nguyen, PhD
Computational Health Research Branch
Postdoctoral Fellow
Contact Information
301.827.3227
vinh.nguyen@nih.gov
Expertise and Research Interests:
Vinh Nguyen, PhD, joined Lister Hill National Center for Biomedical Communications as a postdoctoral fellow in March 2018. She received her doctoral degree from the Computer Science Department at Wright State University. Her dissertation focused on the foundations and applications of contextualized knowledge representation and reasoning. Her current research is on representing the contextualized knowledge from NLM resources such as PubMed, Semantic Medline, MeSH, and PubChem using semantic technologies. Her mentor is Dr. Olivier Bodenreider.
Publications:
Wijesiriwardene T, Nguyen V, Bajaj GK, Yip HY, Javangula V, Mao Y, Fung KW, Sheth A, Parthasarathy S, Bodenreider O.
UBERT: A Novel Language Model for Synonymy Prediction at Scale in the UMLS Metathesaurus.
arXiv:2204.12716 https://doi.org/10.48550/arXiv.2204.12716.
Nguyen V, Bodenreider O, Sheth AP.
Don't Like RDF Reification? Making Statements about Statements Using Singleton Property.
Proc Int World Wide Web Conf. 2014 Apr 11;2014:759-770.
Sahoo SS, Nguyen V, Bodenreider O, Parikh P, Minning T, Sheth AP.
A unified framework for managing provenance information in translational research.
BMC Bioinformatics. 2011 Nov 29;12:461. doi: 10.1186/1471-2105-12-461.
Nguyen V, Bodenreider O, Minning T, Sheth AP.
The knowledge-driven exploration of integrated biomedical knowledge sources facilitates the generation of new hypotheses.
Proceedings of the First International Workshop on Linked Science (LISC 2011) 2011:(electronic proceedings: http://ceur-ws.org/Vol-783/)