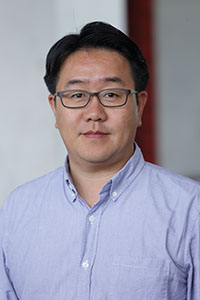 Seo Baik, PhD
Computational Health Research Branch
Biostatistician
Contact Information
Building 38A - Lister Hill Center, 9N911
301.827.4999
seo.baik@nih.gov
Expertise and Research Interests:
In June 2015 Seo Baik, Ph.D., joined the Lister Hill National Center for Biomedical Communications at the National Library of Medicine. Dr. Baik received his doctorate degree in Statistics from University of Pittsburgh. He is a lead investigator in the project characterizing the effects of biologics and drugs in the Medicare population. He has rich experience with the survival data analysis and the evaluation of large databases – especially Medicare's huge trove of clinical and administrative data. His research interests include applications of deep learning and/or extended Cox regression analysis in the area of comparative efficacy and safety of prescription drugs and cost-effectiveness of healthcare. He works in the Computational Health Research Branch with Dr. Clem McDonald and others.
Honors and Awards:
Received an individual NLM Special Act or Service Award in 2017 for completing the analysis and interpretation of several biomedical statistical projects.
Publications:
Baik SH, Fung K-W, McDonald CJ.
The mortality risk of Proton Pump Inhibitors in 1.9 Million US Seniors: an extended Cox survival analysis.
Clin Gastroenterol Hepatol 2021. https://doi.org/10.1016/j.cgh.2021.01.014.
McDonald CJ, Baik SH, Zheng Z, Amos L.
A method for prioritizing risk groups for early SARS-CoV-2 vaccination, by the numbers.
MedRxiv 2020:2020.12.18.20248504. https://doi.org/10.1101/2020.12.18.20248504.
Baik S, Lau J, Huser V, McDonald CJ.
Association between tendon ruptures and use of fluoroquinolone, and other oral antibiotics: A 10-year retrospective study of 1 million US senior Medicare beneficiaries.
BMJ Open 2020;10:34844. https://doi.org/10.1136/bmjopen-2019-034844.
Baik SH, McDonald CJ.
Independent effects of 15 commonly prescribed drugs on all-cause mortality among US elderly patients with type 2 diabetes mellitus.
BMJ Open Diabetes Res Care 2020;8:e000940. https://doi.org/10.1136/bmjdrc-2019-000940.
Zhang Y, Baik SH, Zuvekas SH.
Simulating Variation in Families' Spending across Marketplace Plans.
Health Serv Res. 2018 Feb 14. doi: 10.1111/1475-6773.12831. [Epub ahead of print]
Kury F, Baik SH, McDonald CJ.
Cardioprotective Drugs and Incident Dementias in Medicare's Big Data.
AMIA 2017.
Baik SH, Kury F, McDonald CJ.
Risk of Alzheimer's Disease Among Senior Medicare Beneficiaries Treated With Androgen Deprivation Therapy for Prostate Cancer.
J Clin Oncol. 2017 Oct 20;35(30):3401-3409. doi: 10.1200/JCO.2017.72.6109. Epub 2017 Aug 25.
Kury F, Baik SH, McDonald CJ.
Analysis of Healthcare Cost and Utilization in the First Two Years of the Medicare Shared Savings Program Using Big Data from the CMS Enclave.
AMIA Annu Symp Proc. 2017 Feb 10;2016:724-733. eCollection 2016.
Jarlenski M, Baik SH, Zhang Y.
Trends in Use of Medications for Smoking Cessation in Medicare, 2007-2012.
Am J Prev Med. 2016 Sep;51(3):301-8. doi: 10.1016/j.amepre.2016.02.018. Epub 2016 Mar 30.
Driessen J, Baik SH, Zhang Y.
Trends in Off-Label Use of Second-Generation Antipsychotics in the Medicare Population From 2006 to 2012.
Psychiatr Serv. 2016 Aug 1;67(8):898-903. doi: 10.1176/appi.ps.201500316. Epub 2016 Apr 15.
Driessen J, Baik SH, Zhang Y.
Explaining Improved Use of High-Risk Medications in Medicare Between 2007 and 2011.
J Am Geriatr Soc. 2016 Mar;64(3):674-6. doi: 10.1111/jgs.14000.
Baik SH, Hernandez I, Zhang Y.
Evaluating the Initiation of Novel Oral Anticoagulants in Medicare Beneficiaries.
J Manag Care Spec Pharm. 2016 Mar;22(3):281-92. doi: 10.18553/jmcp.2016.22.3.281.
Zhang Y, Baik SH, Newhouse JP.
Use of intelligent assignment to Medicare Part D plans for people with schizophrenia could produce substantial savings.
Health Aff (Millwood). 2015 Mar;34(3):455-60. doi: 10.1377/hlthaff.2014.1227.