NLM's Dr. Clem McDonald honored with Biomedical Informatics Chair
---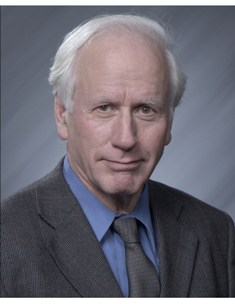 The Indiana University School of Medicine and the Regenstrief Institute for Health Care, a privately endowed research institute renowned for the study of healthcare quality and economic issues, are establishing an endowed chair named in honor of Clem McDonald, MD, director of the NLM Lister Hill National Center for Biomedical Communications (LHNCBC). The holder of the Clem McDonald Chair in Biomedical Informatics will be responsible for furthering the academic mission in Biomedical and Health Informatics at the IU School of Medicine and the Regenstrief Institute, including specifically helping develop the careers of junior faculty members and fellows.
Dr. McDonald is a distinguished physician and scientist, and one of the nation's most accomplished and most productive experts in the field of electronic health record (EHR) systems. Before becoming Director of the Lister Hill National Center for Biomedical Communications in 2006, he was Regenstrief Professor of Medical Informatics at the Indiana University School of Medicine and the Director of the Regenstrief Institute. Dr. McDonald developed the Regenstrief Medical Records System and directed its use in clinical trials that have illuminated the ways in which electronic records can improve patient care. He also created the Indiana Network for Patient Care, now considered a national model for regional health information exchange.
He is also an internationally recognized pioneer in the development of health data standards. He directed an NLM-funded informatics training center at Indiana University. He has been the recipient of many research grants and contracts from NLM, other NIH components, other federal agencies, and several foundations. He was also one of the founders of the HL7 standards organization and is the developer of Logical Observation Identifiers, Names, Codes (LOINC), an identification system for tests and results that is a US clinical data standard and also used in many other countries.
As director of the Lister Hill Center at NLM, Dr. McDonald also oversees five branches with investigators who conduct research and development in biomedical informatics related to consumer health, clinical data, image processing and visualization, and natural language processing to better inform and empower patients, health care providers, researchers, and the general public. Current research projects include biomedical data visualization, high resolution electron microscopy, imaging tools for cancer research, and 3D biomedical imaging research, OPENi (medical citations enriched by relevant images with capacity to search by image), and automated medical text indexing research.
Clem McDonald obtained his medical degree from the University of Illinois, and completed his internship in internal medicine at Boston City Hospital, Harvard Medical Service, and his residency in internal medicine at Cook County Hospital and the University of Wisconsin. Before beginning his residency, he earned an MS in Biomedical Engineering from Northwestern University, and completed a fellowship at NIH, where he managed the development of the first clinical laboratory computer system at the Clinical Research Center.
Dr. McDonald is a member of the Institute of Medicine and recipient of the Morris Collen Award of the American College of Medical Informatics, among many other honors. He is a past-President the American Medical Informatics Association and a past member of the NLM Board of Regents.
The National Library of Medicine, the world's largest medical library, is a component of the US National Institutes of Health.
NLM's Dr. Clem McDonald Honored with Biomedical Informatics Chair