Family Reunification Technologies in Regional Disaster Drill
---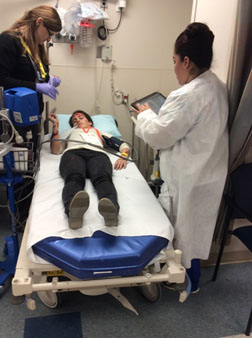 The National Library of Medicine's (NLM) TriagePic® software is used by Suburban Hospital during the March 18, 2014 region-wide PARK PLEX 2014 disaster drill to keep track of simulated patients and to demonstrate family reunification.
Many hospitals in Maryland Region V (Calvert, Charles, Montgomery, Prince George's, and St. Mary's counties) participated in the drill which involved a coordinated response to a simulated disaster incident. Some of the "victims" were treated by Suburban Hospital's emergency room staff in triage zones. Using NLM's TriagePic client reporting/tracking software, social workers kept track of over two dozen patients (in near real-time) as they were assigned to treatment at arrival, as shown in the picture. Later, in the Family Reunification Center in Suburban's auditorium (not shown), other social workers used the associated website's advanced search and display features to aid inquiring friends and family looking for their loved ones.
TriagePic is software developed as part of the Lost Person Finder Project by the Lister Hill National Center for Biomedical Communications Communications Engineering Branch.
After disasters, medical facilities are often a focal point for a surge of inquiries about the missing. Since hospital staff are busy with clinical care for incoming patients, improved human logistics solutions with low impact on hospitals and relief workers is the goal. TriagePic is a tool that meets this goal. Several versions are available: on Windows 7, 8 and Android operating systems on tablets. NLM makes the software available to hospitals free of charge to use in speeding family reunification after mass casualty incidents. Reporting from the hospital's triage zones may be done via the TriagePic apps, while both reporting and search takes place on an associated password-protected Web site. Contact lpfsupport@mail.nih.gov for more information.