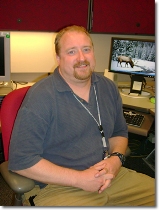 Scott Budihas, PhD
Applied Clinical Informatics Branch

Contact Information
Building 38A - Lister Hill Center, 10S1015D
301.827.4740
budihass@lhc.nlm.nih.gov
Expertise and Research Interests:
Dr. Budihas has developed the Teaching Tool for biomedical test administration, including test creation, test giving, and test reporting. It is being created in collaboration with NCI and the American Society for Colposcopy and Cervical Pathology (ASCCP) and is currently in use for testing for colposcopists in the U.S.
Honors and Awards:
Dr. Budihas has received several staff honors over the years. In 2009 he was awarded a Group Award for development of a suite of tools that enable research in cervical cancer, and in 2008 he was a member of the NLM team recognized by Internet2 for developing geography-independent cancer research tools.
Publications:
Long RL, Antani S, Jeronimo J, Schiffman M, Bopf M, Neve L, Cornwall C, Budihas SC, Thoma GR.
Technology for Medical Education, Research, and Disease Screening by Exploitation of Biomarkers in a Large Collection of Uterine Cervix Images.
Proc CBMS 2006, June 2006, Salt Lake City, Utah; 826-31