LHNCBC's Kenya X-ray Project Recognized by HHS Ignite
---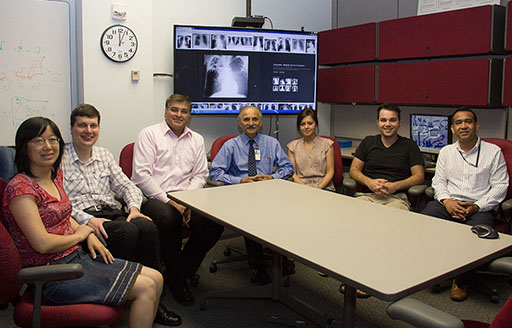 The Lister Hill Center's Kenya X-ray Project, formally known as Automatic X-Ray Screening for Rural Areas, was selected as one of 13 teams out of more than 70 nominees for HHS Ignite, a departmental initiative of the HHS Innovation Council to catalyze projects by exposing teams to a network of innovators, technical experts and mentors drawn from HHS and the University of Maryland. The cash award from HHS Ignite was used to acquire field deployable equipment.
This award recognizes researchers in the Communications Engineering Branch (CEB) who have developed advanced algorithms to automatically detect TB or other lung diseases in chest x-rays – in order to alleviate radiologist shortages in resource-poor areas. The algorithms have been validated, allowing radiologists to examine only those x-rays that are identified (by the software) as exhibiting the disease.
Project team, left to right:
Drs. Zhiyun Xue, Stefan Jaeger, Sameer Antani, Project Lead, George Thoma, Branch Chief, Sema Candemir, Alexandros Karargyris, and Santosh K.C.