Dr. Terry S. Yoo Awarded the 2013 Hubert H. Humphrey Award for Service to America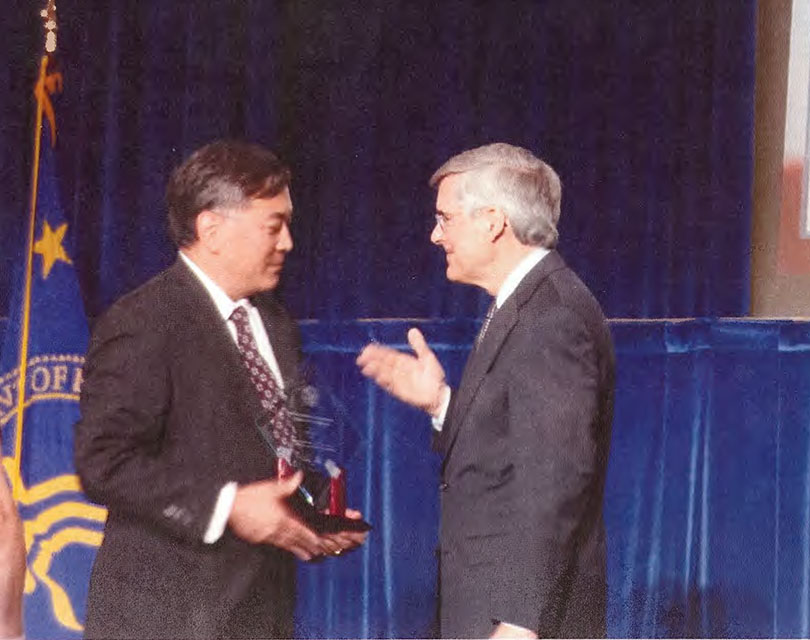 ---
The Department of Health and Human Services (HHS) has recently awarded Dr. Terry S. Yoo the 2013 Hubert H. Humphrey Award for Service to America. This is one of the highest awards given annually to select individuals within HHS who contribute to the common good and well-being of our nation's citizens through leadership and service. Dr. Yoo was specifically cited for his leadership in open science through his work on public software that has become the standard for 3-dimensional biomedical image analysis in both commercial and academic communities.
Throughout his career at the National Institutes of Health (NIH), he has been responsible for the intellectual and administrative guidance of the image analysis efforts of the Lister Hill Center's Office of High Performance Computing and Communications. In his research program, Dr. Yoo explores advanced topics in image science such as nanometer 3D analysis of microscopy data on the infectious nature of HIV, the use of custom 3D printing in patient-specific surgical instrumentation, and computer vision methods for medication identification to promote consumer safety.
When the National Library of Medicine sponsored the Visible Human Project, it was the most comprehensive study of human anatomy ever attempted. The analysis of the inordinately large data sets far exceeded the software and computing capabilities of the time. In response, Dr. Yoo proposed the creation of a public software resource for performing registration and segmentation of biomedical images. He assembled a consortium of companies and universities that developed the Insight Toolkit, known world-wide as ITK. During the 15 years that the ITK has been in use, it has expanded to apply to a wide variety of applications including surgical planning, cancer detection and diagnosis, remote sensing of satellite imagery, segmentation and analysis of cosmological data, 3D microscopy and microanalysis, and even handwriting recognition. The ITK software library comprises nearly 1.5 million lines of C++ code with over 5,000 downloads every month in more than 25 countries.
Photo: HHS Deputy Secretary William Corr presenting the Hubert H. Humphrey Award for Service to America to Terry Yoo.